[ad_1]
IDC reports that shipments of wearables grew to 153.5 million in the final quarter of 2020, up 27.2% compared to the same period last year. The full year growth is about the same and shipments totaled 444.7 million.
Last year the analysts started tracking a new category, hearables. They define it as an ear-worn audio device that does more than music: they access a digital assistant or provide health and fitness tracking. However, even an "audio experience enhancement" is enough for a headset to be classified as a hearable.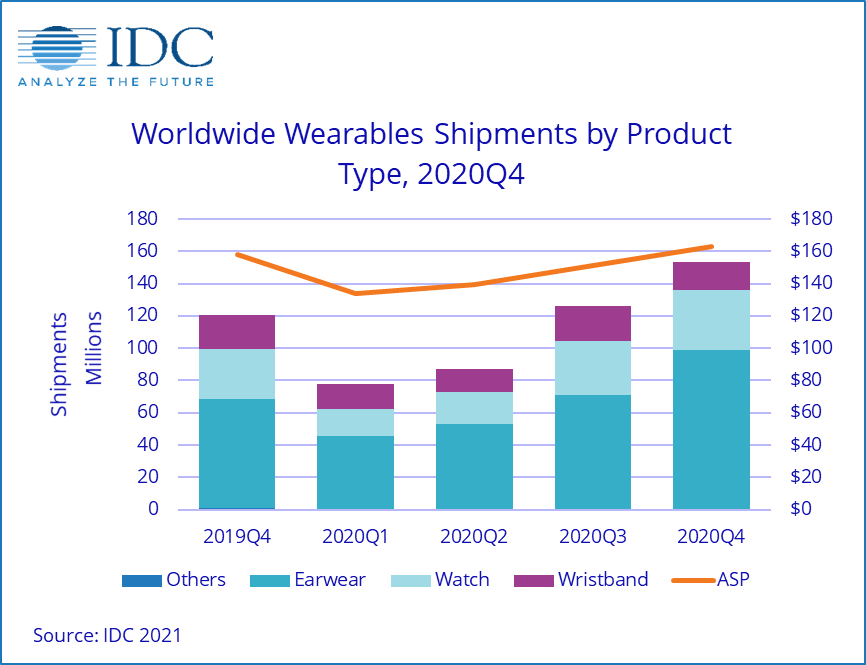 Anyway, hearables are by far the largest category, making up two thirds of shipments. Smartwatches are a distant second with a 24.1% and then there are smart bands – they proved to be the biggest loser and declined to just 11.5% share.
While the pandemic has been negatively affecting the sales of many products, it has boosted health-conscious gadgets. Jitesh Ubrani, research manager for IDC Mobile Device Trackers, says "In-home fitness programs are quickly becoming a crucial component of the wearables offering for many companies. Beyond that, the proliferation of health sensors such as skin temperature, ECG, and heart rate tracking are allowing users and health professionals to better understand the onset and tracking of diseases.".
Top 5 Wearable Device Companies by Shipment Volume, Market Share, and Year-Over-Year Growth, Q4 2020 (shipments in millions)




Company

4Q20 Shipments

4Q20 Market Share

4Q19 Shipments

4Q19 Market Share

Year-Over-Year Growth




1. Apple

55.6

36.20%

43.7

36.20%

27.20%




2. Xiaomi

13.5

8.80%

12.8

10.60%

5.00%




3. Samsung

13

8.50%

10.8

9.00%

20.50%




4. Huawei

10.2

6.70%

9.5

7.90%

7.60%




5. BoAt

5.4

3.50%

0.9

0.80%

470.10%




Others

55.8

36.40%

42.9

35.60%

30.00%




Total

153.5

100.00%

120.7

100.00%

27.20%




Source: IDC Worldwide Quarterly Wearable Device Tracker, March 2021



Apple is the biggest player on the market with a 36.2% share. Apple Watch shipments shot up by 45.6%, hearables are growing too (though that growth is slowing down). Xiaomi placed second thanks to rising hearables sales, while the Mi Band is starting to lose ground.
Next is Samsung, with 8.8 million hearables shipped (including Samsung-owned brands) and 1.3 million smart bands. Smartwatch shipments are down, however. Huawei ended up fourth, it saw increasing shipments in China (+9.4%), but it declined in most other markets.
These numbers were for the final quarter of last year, here's the breakdown for the full 2020:
Top 5 Wearable Device Companies by Shipment Volume, Market Share, and Year-Over-Year Growth, 2020 (shipments in millions)




Company

2020 Shipments

2020 Market Share

2019 Shipments

2019 Market Share

Year-Over-Year Growth




Apple

151.4

34.10%

111.5

32.20%

35.90%




Xiaomi

50.7

11.40%

41.7

12.00%

21.70%




Huawei

43.5

9.80%

28.9

8.30%

50.70%




Samsung

40

9.00%

31.4

9.10%

27.30%




Fitbit

12.9

2.90%

15.9

4.60%

-18.80%




Others

146.1

32.90%

117.1

33.80%

24.70%




Total

444.7

100.00%

346.4

100.00%

28.40%




Source: IDC Worldwide Quarterly Wearable Device Tracker, March 2021



[ad_2]
Learn More